聯系我們CONTACT US
Email: info@mhacc-usa.org
Mailbox:
3160 Castro Valley Blvd.,

Suite 210,Castro Valley,CA 94546
Phone: (800)881-8502
咨詢電子郵件:

info@mhacc-usa.org
電話:(800)881-8502
郵箱:3160 Castro Valley Blvd.,

Suite 210, Mailbox #15, Castro Valley,CA 94546
Mental Health Association for Chinese Communities(MHACC) Board of Directors:
List of our Board members.
董事會成員名單如下:
**********************************
*Elaine Peng 彭一玲 /President
Elaine Peng is the founder of Mental Health Association for Chinese Communities (MHACC), She is a leader and developer of multiple mental health programs for the Chinese community. As a consumer and family member, she helps to promote mental health services and provide peer support to the underserved Chinese community. Her only purpose was to help those who desperately need help; hoping that through programs what the MHACC provide, they do not have to experience the despair she went through. She was the recipient of the 2016 NAMI National's Multicultural Outreach Award, and the 2017 NAMI California's Multicultural Outreach Award.
NAMI Family To Family Class Teacher/State Teacher Trainer
NAMI Family Support Group Facilitator/State Trainer
NAMI Connection Recovery Support Group Facilitator
NAMI Peer to Peer Mentor
NAMI Basics Class Teacher
NAMI In Our Own Voice Presenter
NAMI California Mental Health 101 Program Presenter
Wellness Recovery Action Plan® (WRAP®) Facilitator
Mental Health First Aid (MHFA) Adult Instructor
Mental Health First Aid (MHFA) Youth Instructor
Former Member of the Cultural and Linguistic Competence Committee (CLCC) of the California Mental Health Services Oversight and Accountability Commission (MHSOAC)
Former NAMI California Family Stakeholder Advisory Group Member
NAMI Alameda County Board Member
Alameda County Mental Health Services Act(MHSA) Stakeholder Group member
10x10 Wellness for Alameda County Advisory Board Member
Kaiser Permanente Behavioral Health Patient Advisory Council Member
Service Employees International Union (SEIU) 2015 Executive Board Member
Alameda County Labor Council Member
Oakland Chinatown Improvement Council(OCIC) Board Member
United Chinese Americans(UCA) WAVES program Director of Training
*Jen Hong, PhD /Vice President
Dr. Hong worked in the Semiconductor Industry for 25 years before retiring in 2002. Dr. Hong and his wife joined NAMI Santa Clara in 2003 as family member's mental illness. Feeling the need within the Chinese community for Mental Health, Dr. Hong started the Chinese Family Support Group at Mountain View Chinese Christian Church in 2005 and has taught NAMI family to family education class in Mandarin since then. He also led a group to translate the NAMI Family to Family Education Class into Chinese in June 2011. Dr. Hong was a coordinator of Santa Clara County ECCAC in 2009, a board member of the Santa Clara County Mental Health Board 2011-2014, and the President of NAMI Santa Clara County 2012-2014.
NAMI Family To Family Class Teacher
NAMI Family Support Group Facilitator
*Janet Lin/Secretary
Mrs. Lin has been caring for her daughter, first diagnosed with schizophrenia in 1992, for a quarter of a century, and is happy to say that her daughter is now high functioning. Although she still has hallucinations and hears voices, and her intellectual ability is damaged by her medication, she is now able to do some nice jewelry work and participate in weekend shows, help with the household chores, take buses on her own to see her psychiatrist and counselor on a regular basis, and attend social gatherings and make new friends. Janet believes her experience in the last 25+ years can be beneficially shared with parents facing similar problems in their children and give them courage and consolation. Mrs. Lin was the General Manager of General Rich Corp. in Taipei, Taiwan from 1986-2006. Janet was the President of Yue Fon USA, Inc. in Bellevue, Washington from 2008-2017. She has related experience in Mental Health.
NAMI Family Support Group Facilitator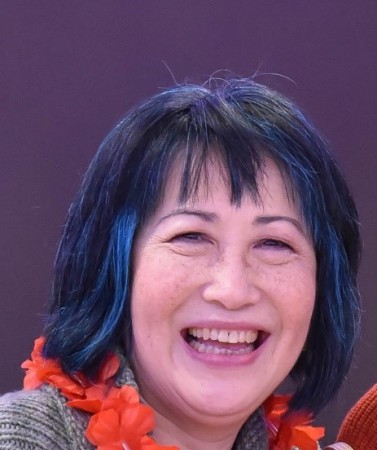 *Carole Wang
Carole Wang has been a fashion designer for her whole life, but for the past six and a half years she has also become a caregiver for her daughter by providing psychological support following her daughter's traumatic brain injury. On July 5, 2011, while doing volunteer work as a camp counselor for Sulphur Creek Nature Center in Hayward, CA, a large tree limb fell from over 2 stories high, landing on her daughter's head and causing permanent brain and psychological trauma. Carole has studied from many different groups and psychologists, and has also earned several counseling certificates. She has helped her daughter from immediately after her daughter's injury, when she couldn't remember what 2+2 equaled, to helping her quit self-harming up until now as her daughter is about to finish her second degree with a 3.9 GPA while simultaneously holding three leadership positions at her school. Carole has realized that our experiences can help connect with other families who are struggling and she is committed to helping support the mental health of our community.
*Gloria Chang
Gloria Chang graduated from Taiwan University with the degree of bachelor of science in nursing (with honor) and now she is a retired Registered Nurse who worked in the hospital and clinic department respectively for over 35 yrs.
Gloria has been a NAMI Contra Costa member since 2008. She is a NAMI CC Mandarin Program founder and coordinator since October 2011. She was trained as a NAMI Family-to-Family program instructor in 2012. She was trained as a NAMI Support Group facilitator in 2013. Gloria was a Board Member of NAMI CC from 2014-2015.
NAMI Family To Family Class Teacher
NAMI Family Support Group Facilitator
As a consumer and a family member, Irene Wei understands the multiple perspectives of the journey to recovery and supports the mission of MHACC. Irene is a NAMI California Mental Health 101 Program Presenter and Family to Family Program teacher. She actively participates in Peer Support Group and has done many translations works for MHACC and helped with many organizational activities. She represented NAMI young patients to Congress member Eric Swalwell and expressed her concern for mental health for students in the United States Capitol in 2017. She is committed to helping make life better for people and families living with mental health conditions.
NAMI California Mental Health 101 Program Presenter
NAMI Family To Family Class Teacher
Awardee of Recognition in 2013 by Castro Valley Unified School District for her dedication, hard work, and positive attitude over a span of three years as a volunteer.
Internation Club President of her currently College
Ms. Lin received her law degree with honors from the University of San Francisco. She also has graduate degrees from the Harvard Kennedy School in Public Administration and the University of Hong Kong (with distinction) in International Public Affairs. She held visiting fellowships at Harvard University and at University of California – Hastings College of the Law. She began her legal advocacy and philanthropy work in the Bay Area, where she was engaged in cases involving health access, disability rights, LGBT and domestic violence. For nearly a decade, she served as a consultant to several local and international nonprofit organizations in Beijing.
She is passionate about serving people with disabilities. From 2002-2004 she was the Clients' Rights Advocate for Legal Aid of San Mateo, helping people with health consumer issues as well as benefits and ADA issues for people living with disabilities. She also served on the Board of Disability Rights California from 2014-2017, the largest disability advocacy organization in the country.