全美首次華人心理大會
2017年4月7日週五全美首次華人心理大會在Santa Clara University舉辦,這次會議由美國心理學會(APA)教育事務委員會(BEA)資助,由聖克拉拉大學Santa Clara University和弗里蒙特青年與家庭服務部the City of Fremont Youth & Family Services共同主辦。大會組織者:Drs. Sherry C. Wang and Helen H. Hsu
1)增加專業人士和診所主管等管理人員的專業知識,了解當前研究和有效的精神衛生方法,及為美國華人社區服務的干預措施;
2)提供專業人士,臨床主管和基層中國美國社區服務機構之間的區域特定連接,整合文化特定資源和知識,建立諮詢網絡。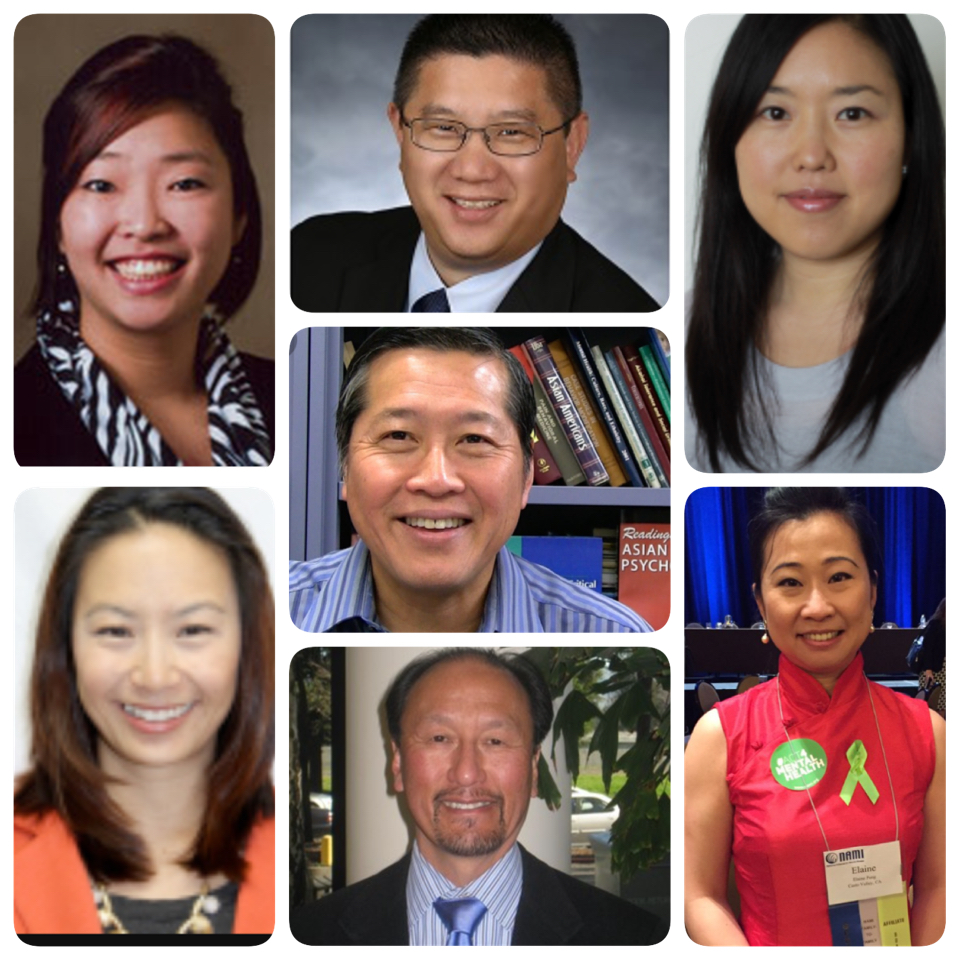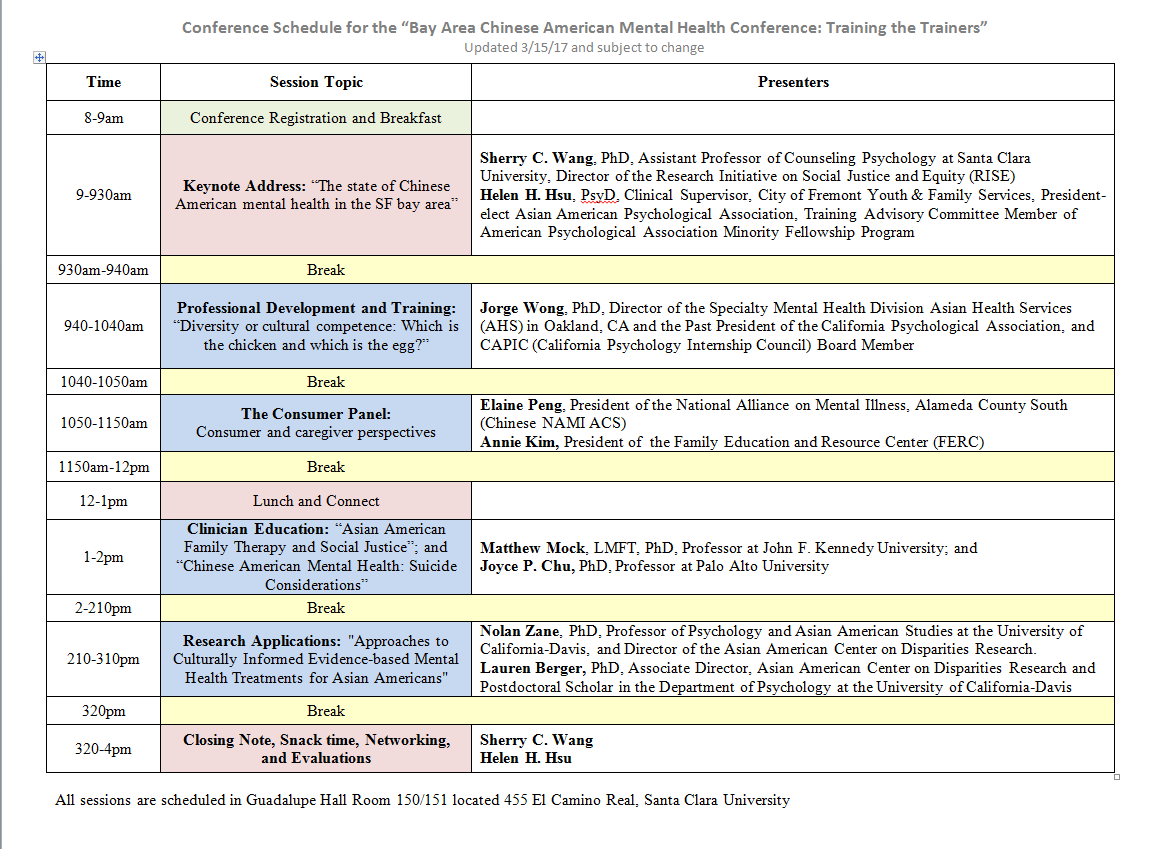 The "Bay Area Conference on Chinese American Mental Health: Training the Trainer" is designed to enhance the training of faculty and supervisors working with graduate students, interns, and postdoctoral fellows to provide culturally-responsive mental health services to the Chinese American population in the San Francisco Bay Area.
This conference is funded by the American Psychological Association (APA) Board of Educational Affairs (BEA) and co-sponsored by Santa Clara University and the City of Fremont Youth & Family Services.
The goals of the conference are two-fold:
1) to increase the expertise of academic faculty and internship site supervisors regarding current research and effective mental health approaches and interventions serving Chinese American communities;
2) to provide locale-specific connections between faculty, clinical site supervisors, and grassroots Chinese American community services agencies to integrate culture-specific resources and knowledge and establish networks for consultation.
這次會議聚集了近百人的華裔精英精神健康領域從業人員,70多位心理學博士和高級管理人員濟濟一堂。與會者有來自伯克利大學、斯坦福大學等高級學府的教授講師,很感動這麼多的專業人士熱心服務華裔社區,讓我們一起來感受當天的熱烈氣氛。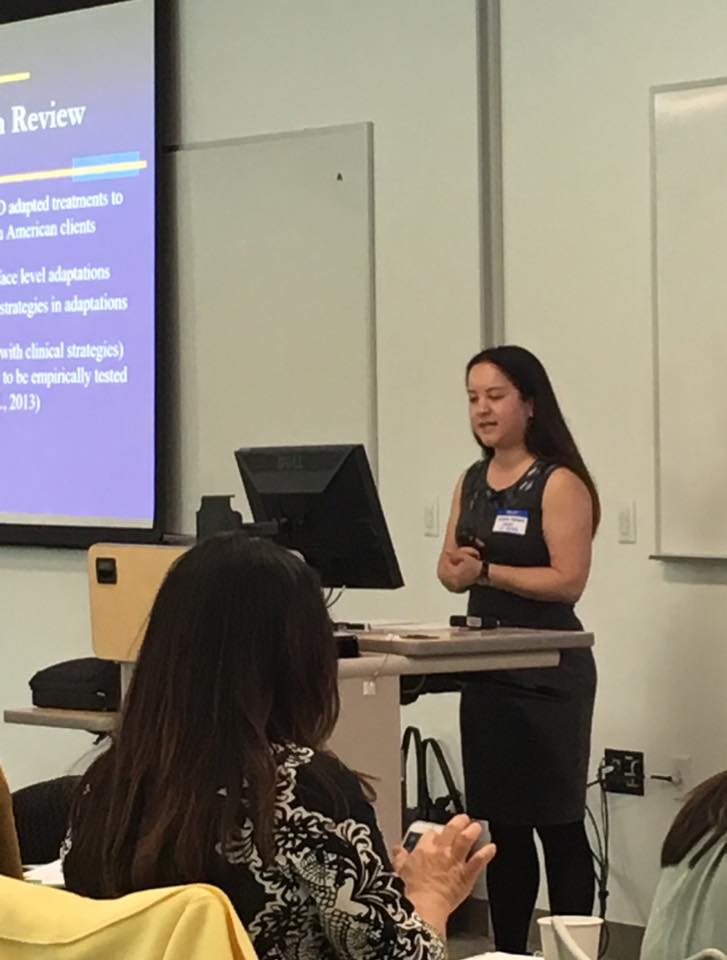 相片提供者:Dr. Sherry C. Wang,Dr. Helen H. HsuDr. , Irene Wei and Elaine Peng