熱烈祝賀:全美首批服務華裔社區的家庭基礎教育項目的中文教師畢業了!
Groundbreaking achievement worthy of celebration :Graduation of First group of 10 Chinese NAMI F2F teachers!
經過多重手續,不斷地努力,年終我們終於迎來了十名NAMI Family To Family家庭基礎教育項目華裔教師的順利畢業。學員來自不同的地區: 有 Alameda County, Contra Costa ,Santa Clara and San Francisco等。培訓圓滿成功!為學員們的努力,義工的付出而感動!
We are thrilled to share the delightful news that ten individuals attended and successfully completed the NAMI Family to Family teachers Training in the Chinese language. This session took place in Castro Valley, CA in December, 2016. This group of ten Chinese teachers has the distinct honor of being the first class ever in the nation to graduate.
The students came from different counties of California, including Alameda, Contra Costa, Santa Clara and San Francisco. Every student expressed great appreciation to the two volunteer instructors --Elaine Peng and Jack Song-- for their dedication and professionalism.
報名專綫:
本期培訓老師NAMI F2F State Teacher Trainer為:Elaine Peng彭一玲和Jack Song宋祥雲, 感謝他們無私的義務付出!
Many months of careful planning aside, what is notable about this particular session is overcoming obstacles such as funding. It was not funded by NAMI California & NAMI ACS but by private individual and Corporate donations. Besides foregoing compensation, the instructors made their personal residences available to serve as classrooms. This is indeed precedent setting.
We sincerely acknowledge the contribution of AmeriSink Inc. They provided, at no cost, projectors and screen for the three days of instruction.
Sources of donation are listed as follows:
Total:$980
Material and supplies:$355
Total: $740
Balance: $240
由於NAMI CA經費有限並不負擔這次培訓。因此這次培訓是得益於善心人士的捐款,
善心公司提供教學設備,
培訓老師放棄酬勞及提供住家作為教學場地而得以成行的。感恩大家的支持!
特此感謝:
AmeriSink Inc.無償提供教學設備幻燈投影機和屏幕器。
Ray Lung 捐款$500
Jack Song捐款$200
Catherine Lee 捐款$100
學員們匿名樂捐共:$180
共收到$980
支出:教材$355
三天訂餐
12/9 $131.00
12/10 $113
12/11 $141
支出共:$740
餘額: $240
我們現在正為2017年四月在華盛頓DC的State Teacher Trainer和State Facilitator的培訓而籌集學費和旅費,徵得捐款人同意後,餘額 $240 為明年四月
培訓

資金。
Elaine Peng彭一玲 , Jack Song宋祥雲
Shelly Ji,Lydia Koerner,Sherry Jin
Cindy Liang,Ting Xu,Raymond Lung
Ruby Wang
Elaine Peng, Ting Xu, Jack Song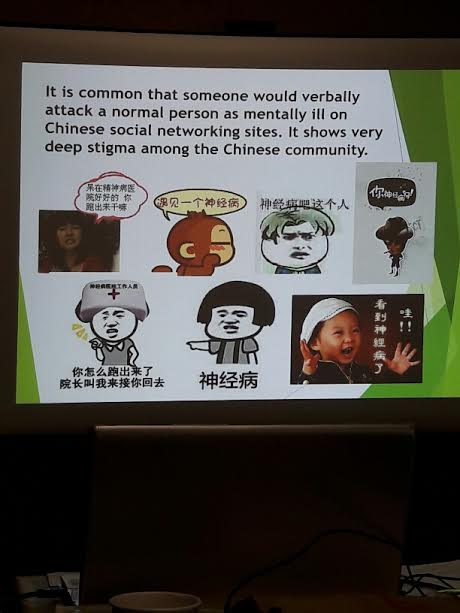 Ruby Wang
Sherry Jin
Shelly Ji,Jane Chao,Cindy Liang
Jack Song,Jane Chao,Cindy Liang
Lydia Koerner,Elaine Peng,Jane Chao
堅持就是勝利
用愛和知識撐起互助、支持、希望的天空,康復之路您我攜手同行!
We look forward to another opportunity of delivering Chinese language course material and sharing our experience with love, compassion and purpose. Through mutual support and encouragement, we are marching ever closer towards recovery and a bright future!